About Nextpost 4.*.* ;
Instagram was intended to enable clients to catch occasions as they come to pass and stay refreshed with their companions, family, and clients. Constant posting might be the most ideal approach to utilize it, however not every person has the advantage of the time to refresh their Instagram account continuously. There are a few instruments that enable you to transfer recordings and photographs, yet they don't give you a chance to plan your substance. With Nextpost, you don't have to stress over dealing with a few Instagram records and posting content.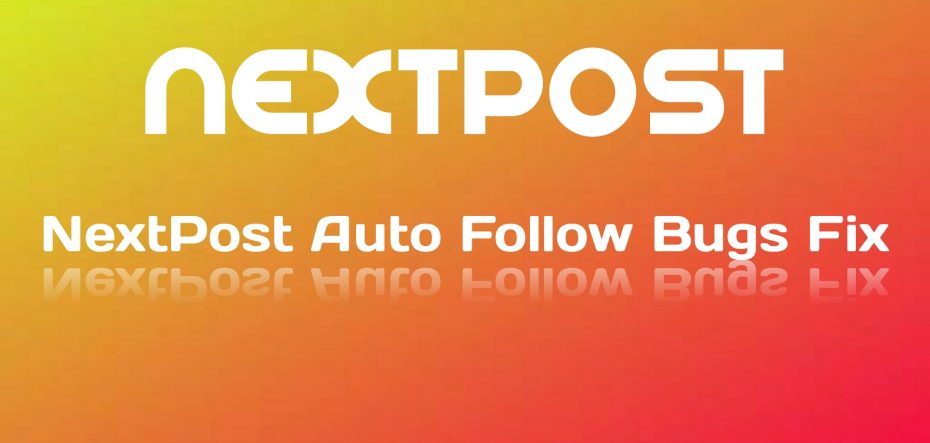 RECOMMENDED:
Pinterest Automatic v4.10.3 Nulled – Pinterest Automatic Pin WP Plugin Nulled
LayerSlider v6.8.2 Nulled – LayerSlider Nulled Free Download
NextPost Auto Follow Advanced Module Nulled Free Download
Auto Follow BUGS

PHP Fatal error: Uncaught Error: Call to a member function getFollowing() on null
Inactive Account
Faild to fetch timeline
Atention Require
ETC
1 File to Patch on 2 places.
inc/plugins/auto-follow/auto-follow.php
Attention: Make a Backup of the Orginal Files
————————————————–
⇒ File auto-follow.php
Change starting from line 387:
if (empty($item->getUser()->getFriendshipStatus()->getFollowing()) &&
empty($item->getUser()->getFriendshipStatus()->getOutgoingRequest()) &&
$item->getUser()->getPk() != $Account->get("instagram_id"))
↓ to ↓
if ($item->getUser() !== null && $item->getUser()->getFriendshipStatus() !== null && empty($item->getUser()->getFriendshipStatus()->getFollowing()) &&
empty($item->getUser()->getFriendshipStatus()->getOutgoingRequest()) &&
$item->getUser()->getPk() != $Account->get("instagram_id"))
————————————————–
Change starting from line 433:
if (empty($item->getUser()->getFriendshipStatus()->getFollowing()) &&
empty($item->getUser()->getFriendshipStatus()->getOutgoingRequest()) &&
$item->getUser()->getPk() != $Account->get("instagram_id"))
↓ to ↓
if ($item->getUser() !== null && $item->getUser()->getFriendshipStatus() !== null && empty($item->getUser()->getFriendshipStatus()->getFollowing()) &&
empty($item->getUser()->getFriendshipStatus()->getOutgoingRequest()) &&
$item->getUser()->getPk() != $Account->get("instagram_id"))
Jarvee 2.0.8.2 Cracked – Social Media Automation Tool
Gram Multitool 2 V0.9.13 Cracked Free Download – GMT2 Cracked
MassPlanner v2.8.4.3 Cracked – Social Marketing Tool